Garage Door Repair in Skokie, IL
Garage Door Repair Contractors in Skokie, IL

Skokie, IL, is a city that experiences a wide range of weather conditions. From humid summers to frigid winters, it's important to make sure your garage door is working properly so you can stay safe and comfortable.
At MF Solutions Inc., we provide garage door repair in Skokie, IL, to ensure that you are ready for whatever the weather throws your way. Our team is equipped with the knowledge and experience necessary to handle any garage door problems that may arise, whether caused by a faulty spring or broken opener.
We offer a wide range of services in Skokie to help you maintain your garage door, including:
Broken Garage Door Springs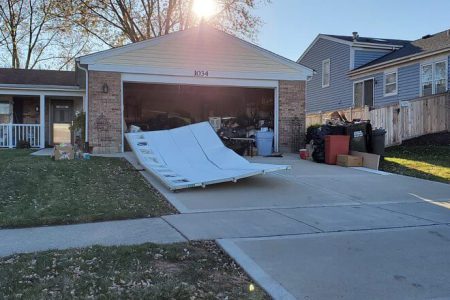 We're dedicated to providing fast and affordable service backed by our 100% satisfaction guarantee. We don't just want you to be happy with the product we install—we want you to be so happy that you tell your friends and family about us!
When it comes to garage doors in Skokie, IL, there's only one name you need to know: MF Solutions Inc, your trusted garage door services company.
Garage Door Repairs Near Me in Skokie, IL
Are you tired of dealing with a garage door that doesn't work? Are you sick of having to manually open and close your garage door because it's broken?
Well, we can help.
MF Solutions Inc. is here for you! We've been servicing the Skokie area since 2013 and have seen it all when it comes to garage doors. Our team is ready to help you with your garage door problems anywhere in Skokie, including nearby the following places:
We're committed to providing our customers with the best customer service possible—which starts with providing quality service at an affordable rate. Our rates are competitively priced, so you don't have to worry about breaking the bank when repairing or replacing your garage door! We are in the home services industry to provide support for our neighbors and not scam them. 
Why Hire Us for Garage Door Repair in Skokie, IL?
At MF Solutions, we're the only garage door repair service in Skokie, IL you need. We've been helping homeowners in Skokie, IL, since 2013 and have earned the trust of thousands of customers. Here are reasons to hire us for your next garage door repair:
Before
After
Before
After
Before
After
Fill up the form below to get in touch with us!